When a rentor leaves a property, they may be owed interest on their security deposit. Manually determining the interest can be tedious, and provides ample opportunity for error. Unfortunately, the steps to calculate this interest are not easily reproduced in spreadsheets such as 123 or Excel - the standard tools for accounting tasks.
We've taken the guesswork out of it for you! With the new Interest Calculator series, calculating interest owed is as simple as entering the move-in date, move-out date, and the amount of initial deposit.
Everything can be done with one hand. Use pull-down menus to enter the dates - this eliminates any problems caused by mistyped dates or incorrect date formats. Extra days for leapyears are automatically added, and the program's use of a four-digit year avoids the Y2K "bug".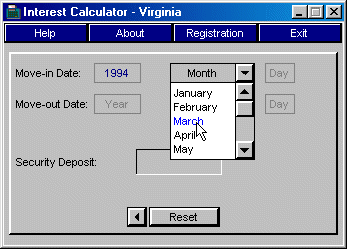 The deposit amount is similarly entered using the mouse and an on-screen keypad. (the option to use the keypad on the keyboard is planned for future versions of the program)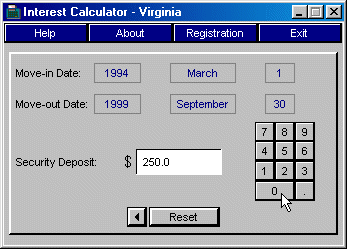 Once you click that last digit, the program will kick into gear and calculate the interest owed. Results are presented in an easy to read form so you can confirm the data before writing the check.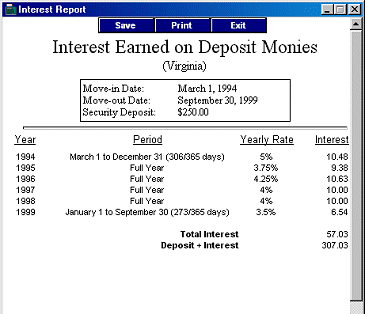 (image reduced from actual size)
You won't find an easier program - even "computer challenged" people will be able to use it with little or no instruction. And to top it off, this program is FREE. You can install it on as many computers as you'd like, and share it with others (as long as you don't modify the files, or charge a fee for the program).